Saturday, December 5 from 10 AM to 1 PM
Stonewall Farm is collaborating with Mill Hollow Works to offer three seasonal workshops. On Saturday, December 5th you can choose from three different workshops for yourself and children. We will be taking precautions according to Covid safety guidelines, therefore masks are required for this event. Additionally, to allow for adequate social distancing, these courses will be capped – so sign up soon!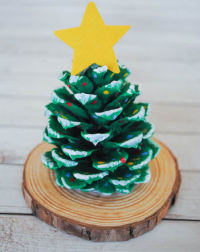 Holiday Kids-Craft Jam, a fun holiday-themed workshop for kids aged 7-11 years (approximately). This course begins with a short hike to find the ideal pinecones and fun accents to be used in the holiday creation. Additional non-toxic paint and supplies will be provided to turn that pinecone into a beautiful holiday centerpiece or ornament. Make a holiday ornament or centerpiece Dec 5th, 10 am-1 pm, $15 includes all supplies.
Holiday wreath workshop, using fresh, locally-sourced evergreens. This course celebrates the season while taking you through the process of creating your own unique holiday wreath. These make a beautiful addition to your own home, and make great gifts! Students are welcome to bring their own special ribbon and botanical accents, however, all tools and evergreens, and base materials will be provided. Join us for a fun-filled afternoon making your own on Dec 5th, 10 am-1 pm, $40.00 includes all supplies.
Wooden-Ornament Carving, learn the basics of figurine carving. Students will be carving a small Santa figurine, which can then be fashioned into a holiday ornament or left as a small standing figure. Students will be learning basic woodcarving techniques and how to apply those cuts to create an expressive figure out of American Basswood. No experience necessary, all tools and supplies will be provided. Join us on Dec 5th, 10 am-1 pm, $40 includes all supplies.
Register Now