Volunteering at Stonewall Farm's organic dairy farm
Several mornings each week, you'll find Luis in the dairy barn helping to care for our herd. For the past six months, Luis has joined in the morning chore routine of cleaning the barn and feeding the cows. On occasion, he helps care for our horses.
Morales is one of several volunteers that participate in our organic dairy operation. Our operation provides organic milk to our farm store, Stonyfield Farm, and soon we'll be making other dairy products. Up until a year ago, Luis was a rancher in Mexico. He had 300 cattle on his ranch where he'd work mostly on horseback and would bring meat to the U.S. to sell. His family's life took a drastic change and they are now part of Keene's Project Home. He volunteers as a way to give back to a community that has given him and his family so much.
The Morales family has endured some scary events in Mexico. One night they were forced to flee their home with only the clothes on their backs after their ranch was taken over by criminals. They entered the U.S. through El Paso, Texas to seek help. They were held in a jail cell for four days while U.S. authorities verified the reasons behind their departure. Once approved, they were moved from the jail to a shelter and put in contact with Project Home, here in Keene, NH. Project Home connected them with a sponsor and legal help to complete their citizen process. He and his family are currently seeking asylum, which is a multiple-year process. The Morales family is now enjoying living in NH. Their three children are attending local schools. Luis and his family are very grateful for all the support they have received. He said the teachers have been outstanding and that his children are working hard on their schoolwork. Luis said if they had tried to stay and protect their farm, one or more of them would have been killed. While NH is very different from where they come from, they are looking forward to their new life together.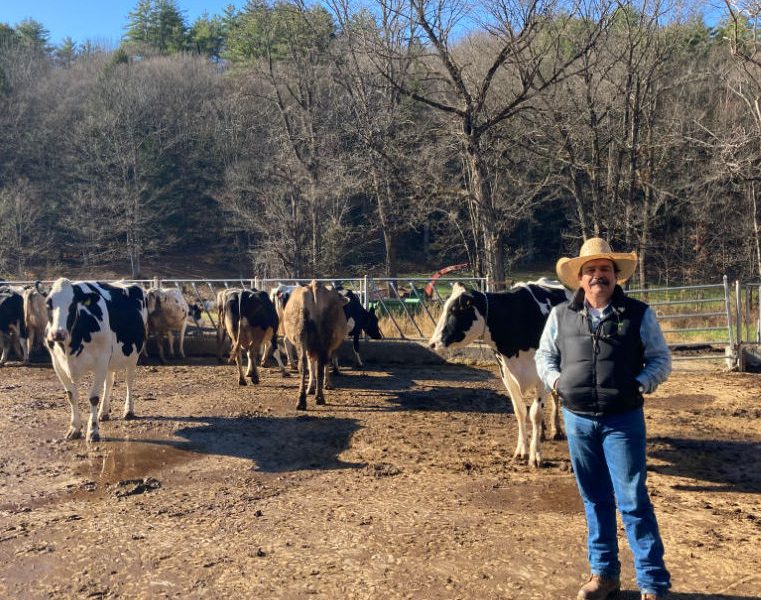 Luis chose to volunteer here because it gives him the opportunity to work with livestock again and it helps him earn citizenship while he waits to be allowed to work. He has developed friendships with the staff at the barn and they all enjoy their time together. Luis's wife had been sharing her cooking skills with our dairy herd manager's (Mark Daniels) family. The smile on Mark's face when he talks about the food is priceless. There are many reasons people volunteer their time and we appreciate all of our help. Our volunteers tell us that they get more out of helping than they thought they would. Community fellowship brings purpose to our lives and sparks new friendships all the time.
You can learn more about seeking asylum and Project Home on their website.
Would you like know more about the volunteer opportunities at Stonewall Farm? Visit our Volunteer page.