Celebrate in Nature
Stonewall Farm birthday parties include rental of our program room for two hours; table for cake; option to do a bunny circle under the supervision of one of the farm's staff. Let your little ones roam the grounds, visit the cows or climb on the playground during your visit. Ask about having farm-made Frisky Cow Gelato for your celebration for an added fee!
Seasonally Themed Children's Birthday Parties
Wetland wonders (spring):
In the spring our wetlands come to life with frogs, salamanders, invertebrates, and more! We will adventure out with buckets and nets to collect and identify these important creatures! Your child will be amazed at the life they can find at the farm!
Bug- Bonanza (Summer):
Did you know 90% of bugs at Stonewall Farm do good deeds? They are called beneficial insects and they're all around us! Join us for a bug scavenger hunt, a game of pollinator tag, and a worm excursion to learn more about the bugs at the farm and the jobs they do!
COWabunga Party!
Join us as we meet the sheep, goats, horses, and of course the cows! Kids will interact with the animals and even enjoy a milking demonstration. What better party favor than to milk a cow for the first time?
Cider and Stories (fall):
Let's work together to make fresh cider in our old-fashioned cider press. We will walk you through the steps of how to make this sweet fall treat and then enjoy a cup as we read a fall-themed story. To wrap up we will explore the farm, looking for evidence of fall and the changes to come!
Snowshoe Surprise (winter):
Stonewall farm has 120+ acres… Plenty of space to learn how to snowshoe! Let us take you on a snowshoe adventure! We can observe animal homes and tracks and see many of the seasonal changes that animals are making to their lifestyle! Includes a one-hour snowshoe tour with an educator and all equipment. Snowshoe parties are held 10:00 am – 12:30 pm or 1:00 pm – 2:30 pm. NOTE: May take ~15 minutes to fit snowshoes.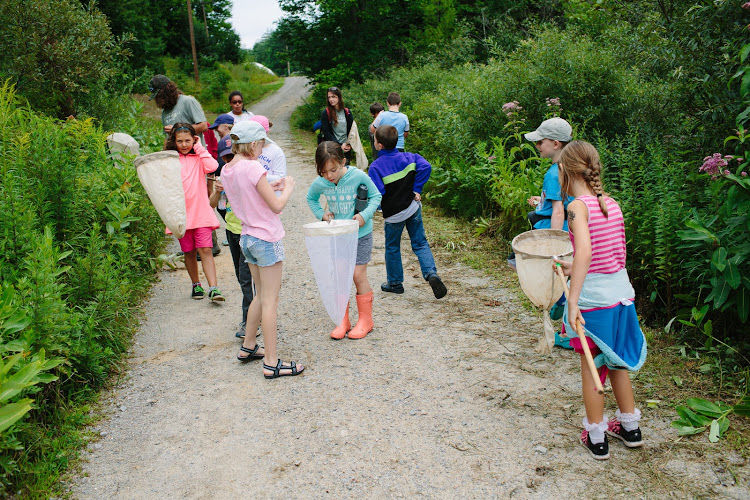 Party details
Up to 15 children may participate
Cost: $250
Includes 45 minutes with educator and all equipment necessary
Details differ for snowshoe party
Includes 1 hour 15 minutes in our program room
Includes tables and chairs
$50 for each additional hour of rental time
Contact Us About Your Party!