Stonewall Farm operates a market garden style CSA that also serves as a farmer incubator and demonstration site for regenerative farming.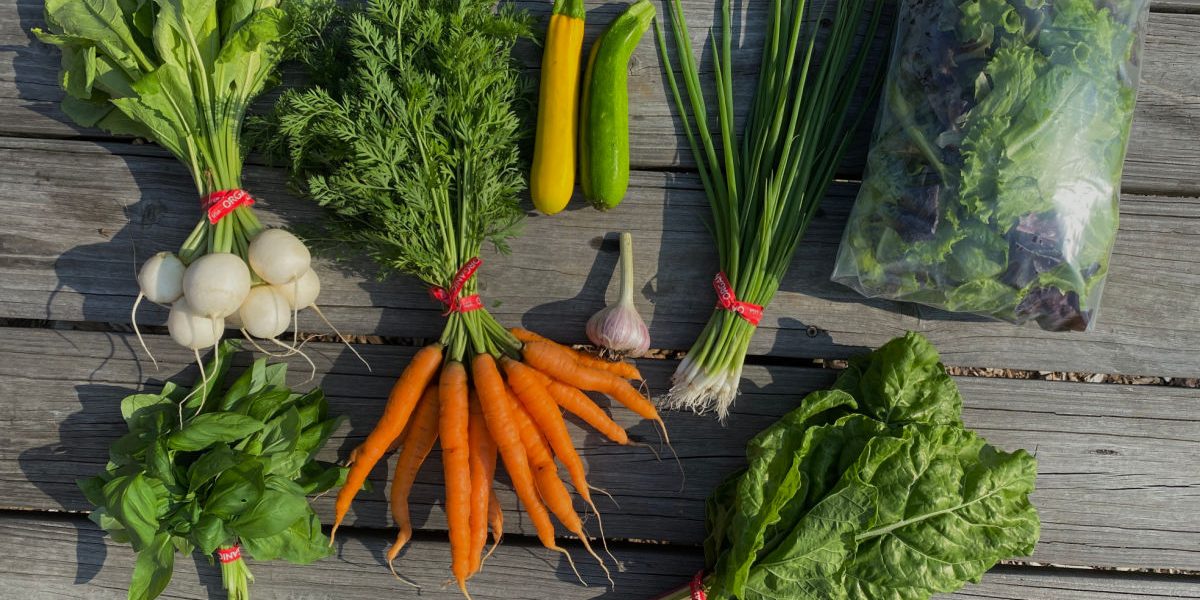 All of our vegetables and berries are certified organic and regeneratively grown in permanent, no-till beds. We experiment with mulching systems, cover crop mixes and herbicide-free termination methods, and equipment such as the roller-crimper and flail mower.
We incorporate and test various conservation plantings in our fields such as wildflower patches, insectary strips, hedgerows, and beetle banks to provide habitat for beneficial insects and pollinators and to manage pests that damage our crops. Our crops fields can be seen filled with pollinators, insects, birds, and wildlife. We believe these practices produce healthier crops. Just taste the difference in our carrots, tomatoes, potatoes, and more.
Community Supported Agriculture (CSA)
Summer 2022 Shares:
June 17th – October 14th (18 Weeks)
Includes a weekly assortment of high-quality and fresh organic vegetables.
Cost: $575
Pickup on Farm: Fridays from 3 pm to 8 pm or Saturdays during farm store hours
Proceeds from the share support our Steppin Stones Farmer Incubator Program.
Steppin Stones Incubator Program
Incubator Farms are a fairly new model of training and are somewhat variable in meaning. An Incubator Farm is typically a place where people are given temporary, exclusive, and affordable access to small parcels of land and infrastructure, and often training, for the purpose of honing skills and launching farm businesses. These programs address barriers to beginning farmers, including access to land, capital, and credit, and opportunities to learn and develop skills in farm business planning. At Stonewall Farm, our incubator farmers are paid members of the staff so they are able to focus on developing their skills while earning a livable wage income.
There is increasing interest, from many non-farmers, in exploring farming as a new career or life path. Incubators provide an alternative pathway to college to develop farm management experience. Many of these new farmers do not have access to land, access to capital, and farm business training and support and can put constraints on those dreams. What is drawing many new farmers to the industry is the potential of farming, especially small-scale regenerative farming as a solution to climate change. We acknowledge regenerative farming has been practiced for centuries by the indigenous people before the approach of modern industrial farming techniques.
Stonewall Farm's incubator program was created to address the need to provide on-the-job training in organic and regenerative farming on a small-scale farm. where new and beginning farmers are able to plug and play into a market garden growing program. Farmers gain hands-on experience managing a market garden and CSA using organic and regenerative farming practices. We have been using no-till permanent beds since 2016 allowing minimal disturbance to the soil. Farmers learn soil health principles, management of no-till systems, crop planning and rotation, irrigation, market skills, and more under the direction of our Market Garden Manager.
The Solution
By providing opportunities for new farmers to access land, develop the skill set and experience essential to run a successful farm, and help develop a business plan, these farmers have a better chance of securing capital, accessing their own land, and ultimately being successful in achieving their farm business goals.
Support
Basic crop farming practices including regenerative agriculture practices and soil management
Business development including planning, finance, and marketing strategies
Access to land, equipment, tools, high tunnel space, walk-in coolers, wash stations, and a commercial kitchen
Connections with local networks including the USDA and Farm Service Agency
One-on-one mentoring provided by our Market Garden manager