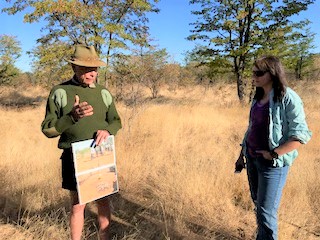 Executive Director Julie Davenson was interviewed in February 2020 by Alexis Baden-Meyer of the Organic Consumer Association for the new Farmers & Ranchers for a Green New Deal Podcast series of conversations with members of a national coalition representing more than 10,000 rural and urban farmers and ranchers in the U.S. The coalition is committed to advancing food and agriculture policies that support organic, regenerative, and agro-ecological food production and land-management practices that restore soil health and reduce greenhouse gases. Listen to podcast.
The Green New Deal was the first U.S. Congressional climate change proposal to include food and farming. The resolution calls for "working collaboratively with farmers and ranchers in the United States to remove pollution and greenhouse gas emissions from the agricultural sector as much as is technologically feasible, including—(i) by supporting family farming; (ii) by investing in sustainable farming and land use practices that increase soil health; and (iii) by building a more sustainable food system that ensures universal access to healthy food."
What do U.S. farmers and ranchers think of the Green New Deal? That's what we've been asking them in our new Farmers & Ranchers for the Green New Deal Podcast, and in videos broadcast live on the Regeneration International Facebook page.